By Jacqui Barrett-Poindexter
The struggle when revamping a recipe is akin to the angst when rebuilding your resume.
Recently, in a lively Facebook discussion, I learned how to make a better egg dish. The processes I underwent mirrors what I see careerists face when cooking up a new resume – whether they hire a professional with which to collaborate or do it themselves.
The reality of my struggle emerged when I began adding more eggs to my diet and realized my egg-making skills were rather undernourished. I was applying my same old egg-dish developing strategies and getting the same old bland results.
Reach Out for New Resume Recipe Ideas
The first process step to revamp my recipe was to admit I didn't know it all and reach out for help. What started out as a conversation with Facebook friends about the value of eggs in our diets morphed into a Q&A about how to prepare egg dishes, the proper ways to make a fluffy scrambled egg, the best seasonings to enhance the flavor, ideal tools for stirring and other ingredients with which to plate your final egg dish.
Similarly, if your resume is stale, you may want to get outside of your own head and seek out better resume writing methods. Cooking an egg sounds simple, but once into the process, I realized the best outcomes required more thought. As well, careerists often gloss over the resume portion of their job search, considering the document to be a rather thought-less process. As a result, their resumes are flat, tasteless and uninteresting to the hiring manager's palate.
Do Your Research to Unearth Strategic Tools
To improve your resume, you likely need to dive deeper than dumping a few duties, dates, dollars and percentages into a Word template. Consider: what word seasonings will you need to dress up and punctuate the aroma of your message? What tools can you use to spur the thought juices? For starters, you will want to employ some sort of worksheet tool in which to brainstorm your focused career brain dump. As well, you might want to consult a resume book and other corporate communications resources from which to find more flavorful words.
You then may wish to research designs and strategies – without 'stealing' ideas, you can browse through websites where sample resumes are displayed, glean ideas and make them your own. Or, better yet, hire a professional resume writer, and you will immediately have a partner with which to weave your career resume recipe together.
Roll-Up-Your-Sleeves Effort Results in Robust Resume Flavor
Once you roll up your sleeves, you will realize the recipe for a strong, healthy resume is not comprised of a single ingredient nor simple process step. Instead, it requires nuance, finesse and a bit of je ne sais quoi.
Following is a brief recap of my egg-dish making journey. Thank you to Julie Walraven, Certified Professional Resume Writer and founder of Design Resumes, and Suzie Kummins-Poirier, executive virtual assistant and founder of Ace Concierge, LLC, for their guidance in my recipe revamp journey.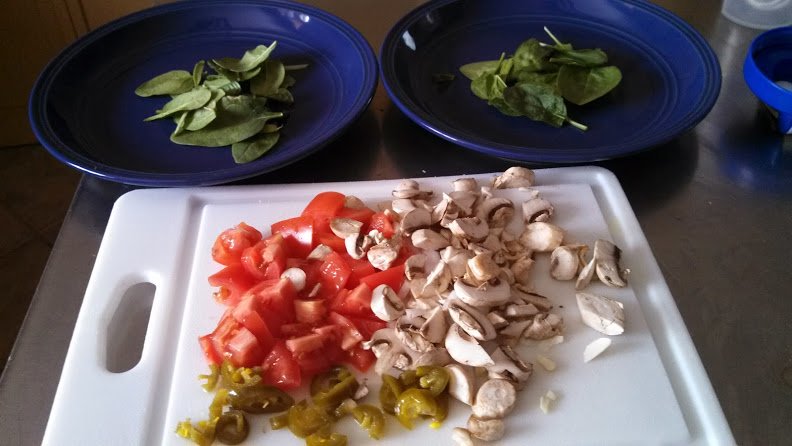 Julie shared how she tops spinach leaves with her cooked eggs, and as a result, the spinach leaves wilt a bit for a yummy texture and flavor, so I began by plating up a few leaves of fresh spinach. Suzie shared how she uses whatever vegetables she has in her refrigerator and adds them to the scrambled egg mixture. So, I rummaged my fridge, found and cut up tomatoes, mushrooms and hot peppers. I didn't fret over whether these were the ideal skillet-frying vegetables; I simply trusted the process and got momentum.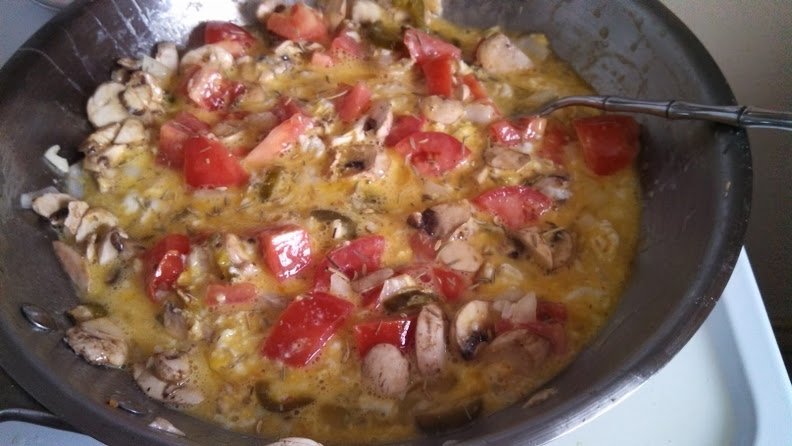 Next, with a little coconut oil melted in the bottom of the skillet, I cracked open several eggs, added a bit of water (per Julie's suggestion), made sure the temperature was moderate so the eggs didn't cook too fast (another suggestion from my friends) and began to quickly stir the egg mixture with a fork (Suzie's great tip). I added rosemary and fennel seed, per Suzie.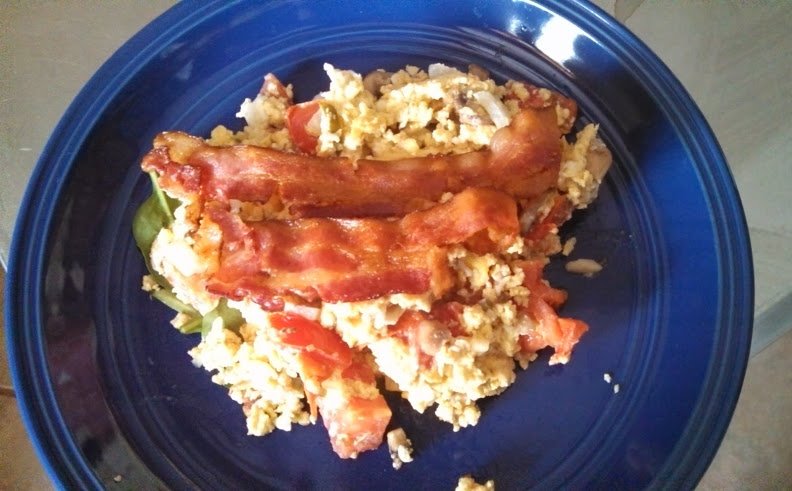 The end result! I plated up two dishes, topped with bacon and served my husband and me for lunch. I knew it was a success when my husband asked me the next day if I would be preparing the same meal! It was a hit!
Here is an alternate egg dish I created a few days later, using fried eggs, but applying several of the same tips from my friends. My egg-making and design skills are still works in progress, but the point is, with a little extra effort, I'm already realizing positive results! Over time, the processes will continue to perfect, and as with the resume process, the end result will continue to be more refined and compelling.
Being open to new ideas and simply trying them out often nets good results! Sometimes what you may think is not worth the extra effort or time, or what may sound counterintuitive to your normal ways of doing things (even with a project as seemingly dry as building a resume), will delightfully surprise you! You might even find the process energizing and exciting. And best of all, your newly flavored resume will be a hit at the next job interview selection party!