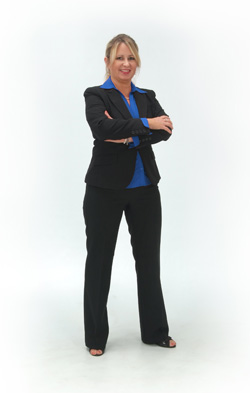 Since 1997, Jacqui Barrett-Poindexter, Chief Career Writer and President, Career Trend, has collaborated with professionals in career transition, or those individuals who have a desire to ignite their existing careers. One of only 27 Master Resume Writers (MRW) in the world, Jacqui has a BA in Writing and 15-years' corporate experience.
An intuitive researcher, Jacqui unearths clients' compelling story details, applies an inventive approach to content development and design and originates value-focused career resume and social media profiles.
In addition to being interviewed for television and radio stories, Jacqui has written articles for and been interviewed by Career Management Alliance newsletter and Blog, ExecuNet's Career Smart Advisor, The Kansas City Star, The Business Journal and The Wall Street Journal. She also is listed on many "Best People to Follow on Twitter" lists for jobseekers.
DEGREE AND CERTIFICATIONS
Bachelor of Arts degree in Writing, Missouri State University – Springfield, Missouri
Master Resume Writer, one of only 27 globally, via http://www.careermanagementalliance.com
Certified Professional Resume Writer (CPRW), via http://www.parw.com
Certified Employment Interview Professional (CEIP), via http://www.parw.com
---
HONORS
Glassdoor Career and Workplace Expert: http://www.glassdoor.com/blog/author/jacqui-barrett-poindexter/
Selected as a Monster 11 for 2011 Career Expert: http://monster.typepad.com/monsterblog/2010/12/monster-11-for-2011.htmlrecruiter/2009/11/17/guest-tbd
Featured in AllTop — All the Top Stories: http://career.alltop.com/
Voted Marketing Innovator of the Year, Career Management Alliance, 2010
---
PUBLIC SPEAKING AND MEDIA APPEARANCES / PUBLICATIONS
Speaker, Twitter: Today's Indispensable Tool to Enhance Your Reach, Strengthen Your Reputation and Deepen Your Digital Footprint, Career Management Alliance Annual Conference, 2010
Radio Guest, Lead Change Group, http://leadchangegroup.com/meet-leadchange-jacqui-barrett-poindexter/, 2010
Radio Guest, The Ex Recruiter, http://www.blogtalkradio.com/the-ex-recruiter/2009/11/17/guest-tbd, 2009
Radio Guest, Recruiting Animal Radio Show, http://www.blogtalkradio.com/animal/2009/09/30/the-resume-chicks, 2009
Guest, Interviewed by Recruiter/Entrepreneur Bill Vick for Employment Digest,  https://www.youtube.com/watch?v=CvE5eD7JPg8
Speaker, Emerging Resume Trends, Career Management Alliance Annual Conference, 2007
Television Guest, Morning Show, WDAF TV 4 / Fox Affiliate, 2005
Radio Guest, Job Talk, 1510-AM, KCTE, http://www.1510.com, 2004
Quotes or Mentions, "Wall Street Journal," "FoxBusiness.com," "The Kansas Star," "The Business Journal" and other news journals
Published in multiple resume books including "The Twitter Job Search Guide," "Cover Letter Magic," "Expert Resume Series," "202 Great Resumes," "Sales and Marketing Resumes for $100K+ Careers – 2nd Edition," and many, many more.
---
CURRENT LEADERSHIP AND PARTNERSHIP INITIATIVES
Board of Directors, Credentialing Master, Career Management Alliance
Co-Creator, www.careercollective.net, 21 careers bloggers collaborating to provide guidance for Job Seekers and Careerists. Launched 2009.
Co-Creator, http://resumechicks.wordpress.com/, an alliance of six certified resume writers participating in various media to promote and elevate the credibility and visibility of the resume writing industry.
Member, ExecuNet Resume Writing Team, http://www.execunet.com
Guest Blogger, Glassdoor.com, http://www.glassdoor.com/blog/author/jacqui-barrett-poindexter/
Expert, Careerealism Twitter Advice Network (T.A.P.),  http://www.careerealism.com/jacqui-barrett-poindexter/
Resume Expert / Blogger, TalentCulture.com, http://www.talentculture.com/author/jacqui-barrett-poindexter/
Resume Strategist / Columnist, Association of Online Resume and Career Professionals, http://www.aorcp.com
---
PAST MEMBERSHIP AND LEADERSHIP ROLES / PUBLIC SPEAKING
Past Chair, Publicity Committee, Human Resource Management Association of Greater Kansas City, http://www.hrma-kc.org
Past Chair, Membership and Website Committees, Association of Career Professionals, International – Greater Kansas City Chapter, http://www.acptinternational-kc.org
Former Monthly Columnist, Resume Writers' Digest, Image Building Communications, http://resumewritersdigest.com
Former Monthly Columnist, Resume Magic, Professional Association of Resume Writers and Career Coaches, http://www.parw.com
Former Moderator for E-List, Career Management Alliance, http://www.careermanagementalliance.com
Multiple Resume and Careers-related Presentations including, "Do I Need a Resume Coach?" Association of Corporate Counsel (ACC); "Writing Resumes That Get Interviews," Society of Technical Communicators; "Resume Development and Impactful Correspondence," Human Resource Management Association's How to Become the Employee of Choice one-day seminar … and many more