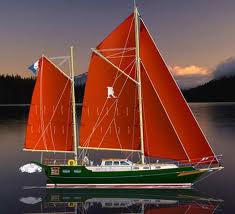 By Robert P. Poindexter
Joshua Slocum was the first man to sail around the world alone. He had little formal education and was dead broke when he set out on the adventure that would guarantee his place in history.
More than a hundred years later, his name is still spoken in reverent tones by modern sailors who were inspired to head out on their own adventure after reading his account of the trip. He wrote several books during his lifetime, but "Sailing Alone Around the World" was probably his most famous work.
It was April of 1895 when the Spray and her captain left port. And while I, for one, thoroughly enjoy Captain Slocum's telling of this journey, it is the back story that I find even more intriguing. This wasn't a man who woke up one day and decided to take off around the world and then write a book about it. This was a person whose whole life seemed to be leading up to this trip.
At the ripe old age of 14, he ran away from home to work as a cook on a local fishing schooner. At 16, he was working as a regular sailor on British merchant ships and by the time he was 25 years old, he was commanding his own ships.
Joshua would go on to command many more vessels before he undertook his voyage around the world, picking up vast amounts of knowledge along the way about all manner of ship handling. In addition to navigational skills, he also learned the customs of foreign ports and what seas he could safely sail across at certain times of the year.
Perhaps the most important thing he learned along the way was how to be alone. As a ship's captain, being alone was part of the job even though one was surrounded by many crew. He may have had advisors and helpers, but the captain alone was responsible for the safe delivery of ship and crew. This experience would serve him well aboard the Spray.
Relationships he had built along the way also became important to his quest. For without them, the story may never have been told or may have had a much different outcome. A great deal of the trip was financed by newspapers he sent frequent updates to along the way. He received support in harbors he visited as well from those who had known him during his career as a sea captain.
You could say he had built up a very good resume and was using it to his every advantage.
If anyone doubts the importance of vital information on a resume, one need only look a little deeper at the little man aboard his little sailing ship, who circumnavigated planet earth alone.