Posted by Jacqui Barrett-Poindexter, Master Resume Writer in
Career Portfolio
,
executive resumes
,
job search
,
Robert Poindexter
on Jun 18th, 2013 |
No Comments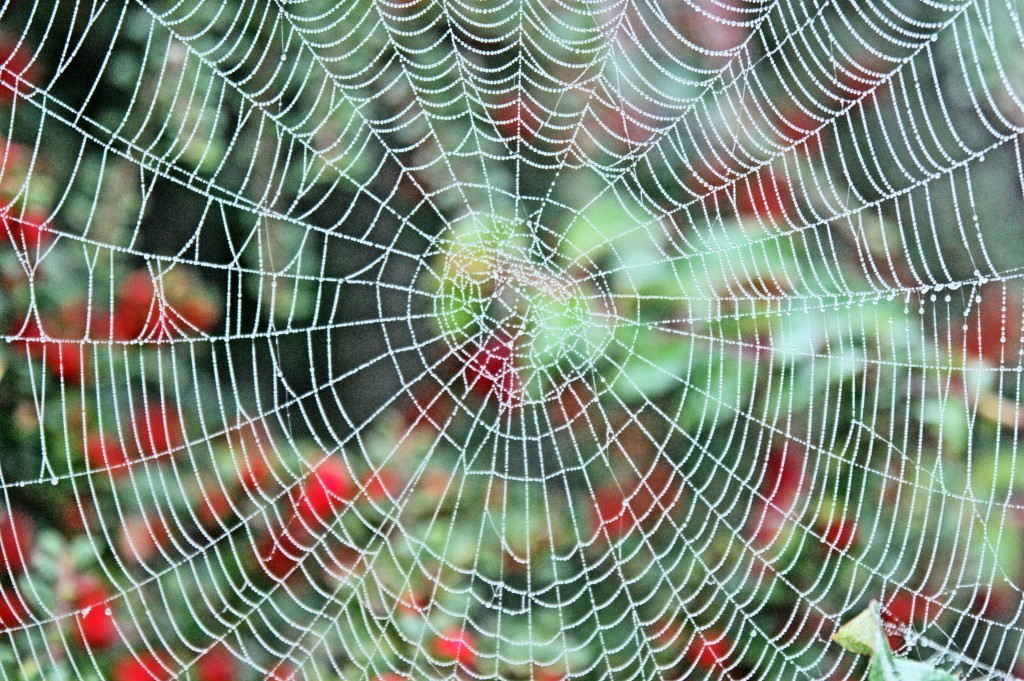 I am not aware of any scientific cases of spiders starving to death, which is quite amazing when you consider their main food sources possess abilities that most of them don't — like, for instance, the ability to fly. Spiders are fast and some can even jump, but I'm not aware of any that are equipped with wings.
I am personally not a fan of these creepy creatures, but I must admit, if one ever wanted a lesson in survival, the spider provides a great example. I wouldn't be surprised to learn that our caveman ancestors took one look at a web after unsuccessfully chasing a Tyrannosaurus Rex through the jungle all week and thought to himself,"Hmmm!" And the trap was born.
Of course, building a web or a trap is one thing, but putting it where it will catch the intended prey is the real genius. Spiders always put their webs in areas that are most likely to be frequented by their  food source of choice, and where I am most likely to run into them face-first. (I've long been suspicious of prankster spiders that place webs in locations certain to produce an arm-flailing-hair-messing-face-rubbing-trip-down-the-stairs-backward-dance. I can only imagine their delight while they slap each other on the back and laugh as they head off to do other spider stuff.)
What does any of this have to do with your job search? Plenty!
Like the arachnid, you must ensure you are setting your trap where it will do the most good. Garner the most hits. Feed your job search appetite, if you will.
Also, your web should be properly designed. You never see a spider spin out one long silken thread in a straight line, and if you do, he will most likely be a very skinny spider. For the spider knows his web must be multi-dimensional if he hopes to eat.The same is true for your successful job search. A well written resume alone is a mighty thread, however, layering it with a good cover letter, biography, LinkedIn profile and other important career documents give it width and breadth.
If your web isn't catching enough attention lately, you may want to consider the services of a professional weaver.
Good luck and happy hunting.
By Jacqui Barrett-Poindexter
#1: Metaphorically Speaking: Mix Prints | Get Colorful
Have you ever revamped a stuffy wardrobe? For example, did your old wardrobe boast perfectly matched colors, solids and prints so that you would not stand out, be offensive or take a risk that someone may disapprove?
During your wardrobe revamp, did you dare to differentiate by (gasp!) mixing prints that 'some' may say don't mix well? … or colors that are bold or different or simply aren't meant to blend?
And, as a result, were you pleasantly surprised with the response to your new look? Did you garner positive compliments and remarks that your visual appealing and differentiating wardrobe delighted?
Similarly, with today's career resume communications, you can dare to sprinkle in your differentiating patterns, colors and designs, mixing and matching virtual solids and prints to create distinguishing career snapshots.
This may mean adding splashes of color to headlines and other content to set the communication apart; it may also include weaving in meaningful charts or graphs and other design strategies that visually stimulate the reader's senses while emphasizing your unique value.
#2: Quit worrying about the length of your resume (#Yawn)
#3: Sprinkle Uniqueness in Each Career Profile Presentation
#4: Get Sweaty Unearthing Your Stories
Don't just stick with the traditional Challenge/Action/Result format of expressing your achievements.
Saying that you faced a difficult economy but took the extra steps to beat the streets and secure 50% more sales is great, but it's not always enough to set you apart.
Dig deeper; unearth and articulate what it is about YOUR unique way of thinking, influencing, organizing, communicating, leading, strategizing (whatever – this is your story, and these ideas are just the tip of the iceberg). But dig you must, and sometimes this digging makes you uncomfortably sweaty, metaphorically speaking. Do it anyway.
#5: Humbly, Pragmatically, Yet Boldly Brag
Be unabashed about bragging about your successes – yet, temper the language so you are tooting your own horn in a way that sells you as the reader's solution.
In other words, don't be a show off; write in a way that makes the reader feel you care more about their needs than your wants, how you can alleviate their pain. But do it in a way that subtly, yet somewhat boldly, boasts about your achievements!
#6: Keywords Matter, but Intuitively Weave Them In
When writing your first resume draft, don't get caught up in the right keywords just yet, as comfortable as it may seem to put your focus there. Keywords will intuitively be woven in, at the right time.
Remember, writing a resume is a layered process, the first layers of which should vet out your raw career material and thoughts.
First, concentrate on your story as it relates to your target audience's ears. Are they are looking for a technology project manager who can work on months-long projects in teams spread across time zones?  Then, think hard and vet out stories that sell you as 'that' person. Brainstorm details of those stories (Challenge/Action/Result PLUS the unique ways you perform your actions —  your talents that interject themselves during these action steps – See #4).
#7: Edit, Edit, Edit!
… and then edit (and proof) one more time beyond what you are comfortable with.
Well-written career communications requires intellectual rigor and editing effort.
Posted by Jacqui Barrett-Poindexter, Master Resume Writer in
Career Portfolio
,
executive resumes
,
Jacqui Barrett-Poindexter
,
Resume Story
on Feb 7th, 2012 |
1 Comment
By Jacqui Barrett-Poindexter
Recently downsized, separated or fired executives often at the precipice of retirement or at a phase in their executive career ladder where they are feeling old and worn down often struggle with building a career portfolio.
They are so distracted by the issues they will face in a competitive, younger job market as well as the aftermath of emotions wrought by their recent termination, their ability and motivation to deep-dive into recent accomplishments stories, and the leadership nuances they employed to achieve those results, wanes.
In recent collaborations with executives who were suddenly terminated, I've witnessed a propensity for them to focus their career stories on earlier times (often, 10-20 years ago), when their career was newer and shinier, less wrought by the complicated and less than perfectly directed challenges that rocked their career ship in more recent years.
Here's how I coached a recent executive to move past the past and prop up her more recent years' successes (partial recap of my email exchange with her):
What I wrote:
You did a great job of intellectual brain dump in regard to stories of your earlier years where you spearheaded the turnaround of ABC Company or directed the successful start-up of DEF organization from concept to a multimillion-dollar marketplace leader.
The top 5 accomplishments stories you cited, however, describe achievements occurring between 15-25 years ago.
We need also to showcase more recent (last 5-8 years') initiatives proving your leadership acumen and problem solving talent involving operational, revenue, program, people management, regulatory issues, etc. in a more recent context. In other words,'what have you done lately'? This is imperative to the success of my writing for your go-forward goals. 
Within those stories, I'm looking for both problems faced (with people, processes, etc.) and quantifiable results. It may be that you describe stories that didn't have an immediate measurable impact but that attach to (impact) a bigger, more organization-wide (or industry-wide) goal, and I need you to measure / quantify that impact for me. 
We need to make sure the resume has teeth. I also need to understand the detail of how people responded to your initiative, how you surmounted issues with push-back, or you overcame obstacles with processes or vendors or legislative representatives, or members, etc. (I'm just brainstorming here – YOU come up with the types of challenges you met with), and how specifically you used your knack at influencing, negotiating, etc. to finesse and resolve.
Literally let your mind free and brain dump. BRAG about yourself! This is no time to be humble! It is my job to then cull the nuggets of career gold from the brain dump. 
My job is as your career trainer to push you just a bit more, so that when I take the baton, I can continue the marathon by writing you a fantastic, meaty and compelling resume that gets attention (because it has muscle).
Please know that I empathize that this is a difficult time for you to move through such an introspective exercise, but I am confident that not investing in the detail will exacerbate things. By going a bit deeper, pulling together enough recent detail about your contributions, I can market you as a current, hit-the-ground running candidate, which I know you are!
My client's response:
"This is very helpful. I'll get to work immediately. Thanks for pushing. Don't hesitate to keep doing that."
I share this story with you because I believe it is absolutely imperative that executives and professionals surround themselves with pushy, encouraging partners to help you navigate through the rigor of career change. It is NOT easy. The winds are tumultuous, you WILL get off course, and you MUST continue adjusting your sails. Yet, with the right attitude, continued movement, traction and effort, you will most definitely sail into a new port!