Posted by Jacqui Barrett-Poindexter, Master Resume Writer in
Career Restoration
,
Career Story
,
executive resumes
,
value proposition
on Mar 30th, 2011 |
No Comments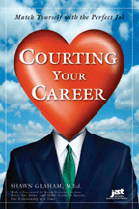 "I have invested hours and hours in the attached (resume worksheet).  I found the process everything from cathartic, to exciting, to tedious and insightful."
These were the words of a recent client, (we'll call him 'Ben') in an email he wrote me, after completing an intellectually laborious process of career brain dump, an introspection that would serve to equip my writing team with the insights and word stories to fuel his resume.
Ben's experience is fairly typical. Another client (Jill), who called me last week to exclaim that she'd just accepted an offer from a major product company in a senior sales management role, reminded me of the note she had written several months ago while in the throes of our resume collaboration. Accompanying Jill's completed worksheet, her note said:
"A very impressive document – I don't know whether to hug or hit you for having to fill it out ;>)"
To read the rest of this post, please follow this link to the Courting Your Career Blog: Cathartic Resume Process Helps You Sail Into Your Career Dreams.