Posted by Jacqui Barrett-Poindexter, Master Resume Writer in
How to Find Perspective
,
Work Life Balance
on Feb 8th, 2015 |
8 Comments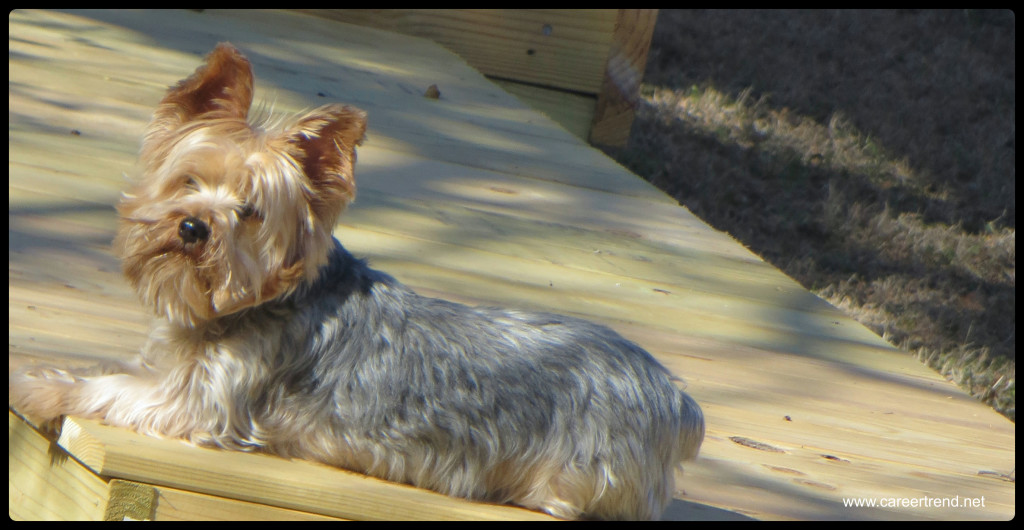 Yesterday, for a short while, I felt a little glum for no particular reason.
The sun was shining, and the temps rose to nearly 70 degrees at Lake Texoma. Add to that, I live in view of a 90,000-acre lake in North Texas, and I have the luxury of a couple hundred yard commute to work in a separate office building in my backyard working with terrific, interesting, executive and professional smarties (clients) with lots of heart every single day. Moreover, I am married to my best friend and husband, and am greeted daily by kisses from Roger, our stocky, happy Yorkie. Add two sweet kitty cats to the mix, and well, it's a wonderful life.
But I digress, back to my gloom.
I tried to just 'go with it' and let myself feel a bit more solemn — allow the feelings to course through my veins. Sometimes soaking up the sadness actually can be therapeutic. Yesterday it wasn't, however. I just felt blah, and kind of bad, not in a good way.
So, after unloading the groceries, I stepped outside with Roger and just started walking across our property, soaking up the sun instead. Temperatures cooperated, so I didn't even need a jacket on this February Saturday. The dock-like extension to our new deck (custom-built this winter by my handy husband), beckoned, and I sat, arms extended behind me, and just looked across our hibernating yard, quietened by winter. Birds lightly chirped. Roger folded one little arm beneath his stomach and lay down, gazing ahead.
Endorphins awakened; mood lifted; I felt so good.
I strode back to the house, gathered my things and walked to my office building. For the next three hours, I found solace in the smooth poetry of writing as I handled client projects, delivering in as timely of a way as I could, considering it was the weekend, and I was wiggling just a bit on a couple of deadlines I'd hoped to carry out earlier in the week.
(Sometimes), life is good, when you allow it to be.
What are you doing, today, to allow goodness in your life?
By Jacqui Barrett-Poindexter
Career Storyteller + Blogger
www.careertrend.net

By Jacqui Barrett-Poindexter
The satisfactory blending of your work and life may seem improbable, or even impossible at times, but I urge you to bear in mind that hope and possibility always are within grasp. Never give up; and when beset with new obstacles, reframe, refocus, refresh and re-attack your goals to design a life of contentment, woven with a rich tapestry of feelings, both sorrowful and joyful, with a focus on the 'joy.'
In my recent post at 3Plus International's online newsletter, I described my last-three-months' learnings as I rode the wave of geographic and life change. My goal is to encourage, lift and instill hope in others who, at whatever stage in their lives or careers, may be considering change.
Please visit my post, here: Marching Through Change.
And, for a plethora of other posts by smart, interesting and supportive 'women worth knowing,' please visit 3Plus International. And if you aren't already, follow 3Plus' co-founders via Twitter, Anne Perschel, Dorothy Dalton and Lise Moen.
Posted by Jacqui Barrett-Poindexter, Master Resume Writer in
Career Advice
,
executive resumes
,
Work Life Balance
,
Workforce
,
Workplace Productivity
on Jun 14th, 2011 |
No Comments
By Jacqui Barrett-Poindexter
A full-night's rest and the proper diet create a solid framework for career productivity. However, a plethora of other activities, including physical stimulation and workspace decluttering can directly impact your energy and effectiveness.
For further ideas that, if applied, will help add muscle to your career, or even jump-start a stalled career, please read my latest post over at TalentCulture: 5 Activities to Strengthen Your Career Muscle.