By Jacqui Barrett-Poindexter
And so it goes, Rob and I have moved into our new home, but this time, we are rooting ourselves into this small lake town called Gordonville, in Sherwood Shores, on the banks of Lake Texoma, Texas.
A mature home, really. Built in 1962, this little cabin gives us the slice of lakeview we yearned for, the peace that pacifies (so quiet here) and a spread of land — six lots with our 1,217-square-foot perfectly-for-us laid out house with two bedrooms, two baths, tiny but robust kitchen, porch and garage (aka, gym); 450-square-foot Morgan building well suited for my office and entertainment center (CareerTrend and I Want To Write For You headquarters and TreeTop lounge) and more. Rob even has a man cave perched just outside the garage that currently houses an eclectic mix of a writing desk, and other paraphernalia we have yet to repurpose or toss or fully organize.
Languorous ivy crawls up our fence outlining property populated by lumbering oak trees, punctuated with a decorative pond and providing ample space for birds and cats and our dog to romp and play, sniff and explore.
For us, the journey to get here should never be forgotten.
We wrote about our decision and ultimate transition from Kansas City to North Texas HERE, HERE, HERE and HERE, as well as our initial months/year and last three years living here, HERE, HERE and HERE.
Most recently, in January 2014, we returned from a big trip to Key West, FL, only to be facing a bigger decision–whether to stay, or go, to determine whether to buy or to rent for another year, or move to another city, state or location altogether.
We stepped off the cliff and started house hunting. Rob and I had talked in detail and researched in depth about what our needs and wants were, so finding the right home was not a matter of laborious house hunting and dozens of tours. Within a week or so, we had identified the right property, and had made an offer.
However, as quickly as we found the right home, the process almost immediately stalled, resuming to a slow drip. The next four months turned into a nail-biting, emotionally exhausting and rigorous experience, navigating through the labyrinth of lending hoops and requirements.
The learning curve was wrought with the unique aspects of buying a home in rural, lakeside America where traditional, urban rules and requirements often don't mesh with the eclectic, non-conforming and unregulated wild west of this township. What we thought would be a 30-45 day process stretched into four months. From mid-January to mid-April, we (mostly) managed emotions, persisted through paperwork, emails and phone calls and prayed for acceptance of whatever outcome occurred. (This longer than anticipated and weary-making process may ring familiar with many of my job seeking and careerist readers engaged in–or having undergone–career transition!)
Upon the news that this little house was officially going to be ours, I actually wept for a moment; and the intense joy I felt when sharing the news with my husband was palpable.
Within a week leading to our move, this little happy fellow (which Rob aptly named Jolly Roger) a stray Yorkie that had been abandoned in a local RV park adopted us, enhancing the transition.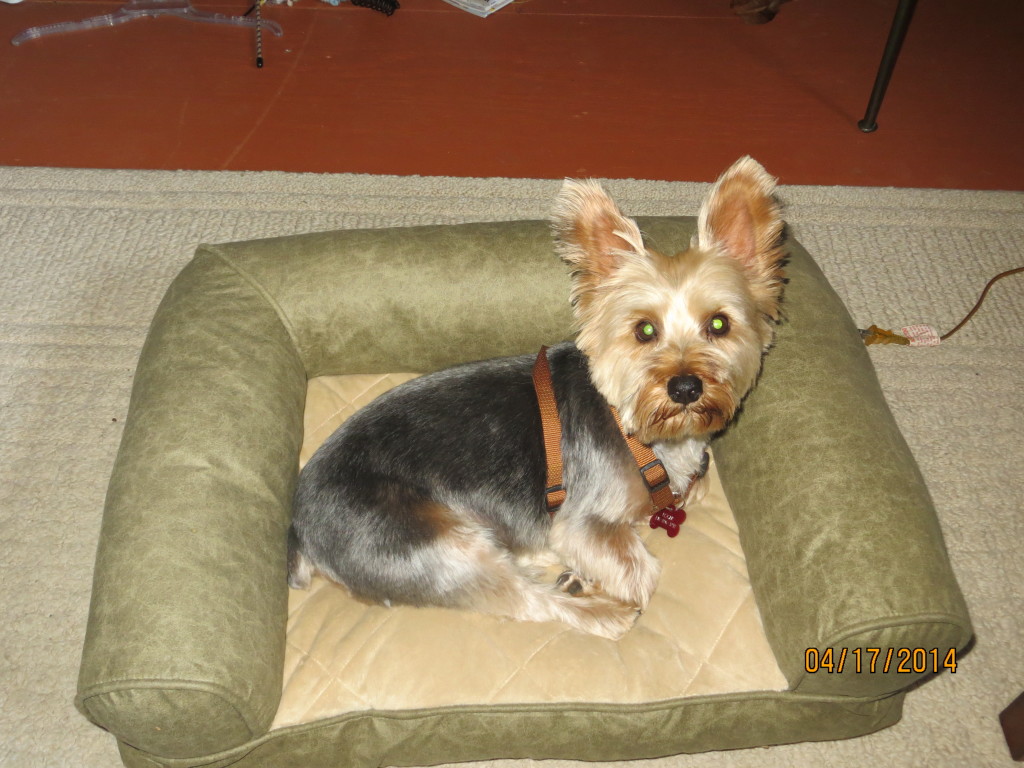 Our new home has a great lake view.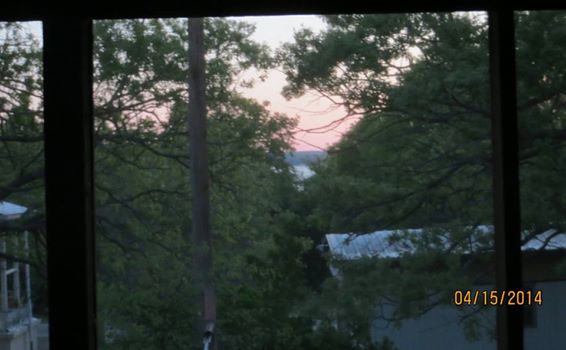 We also dig our inside view.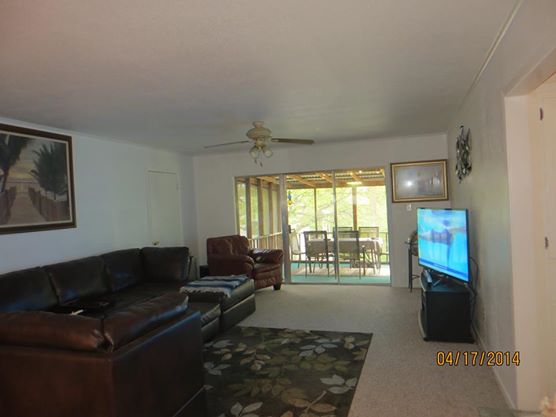 The Morgan building was a huge value-add and houses my office separate from the main house. It is a perfect place to get focused and in the flow of writing.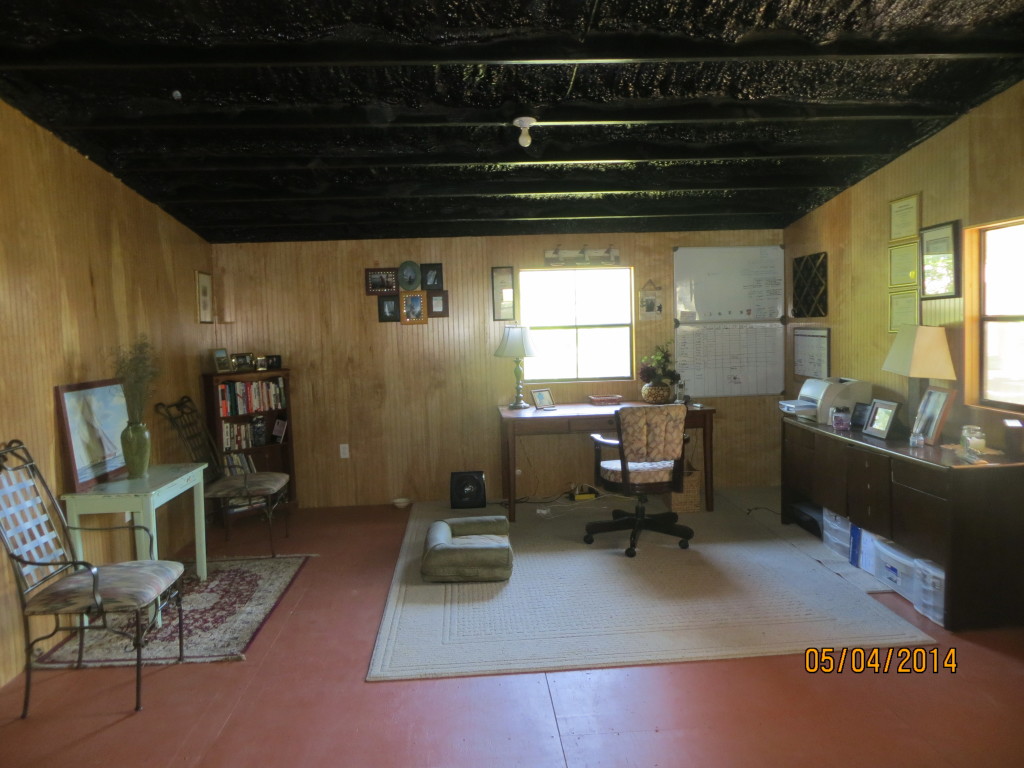 We awaken daily to this new beauty and calm, and already can tell, whatever challenges are ahead, we are more equipped to handle them. Whatever bears are in the forest, we can fend off, and whatever droughts may present themselves, figuratively or literally, we have the willpower to endure.
And, simply walking through our back gate and down a wooded path, we are minutes from this beach.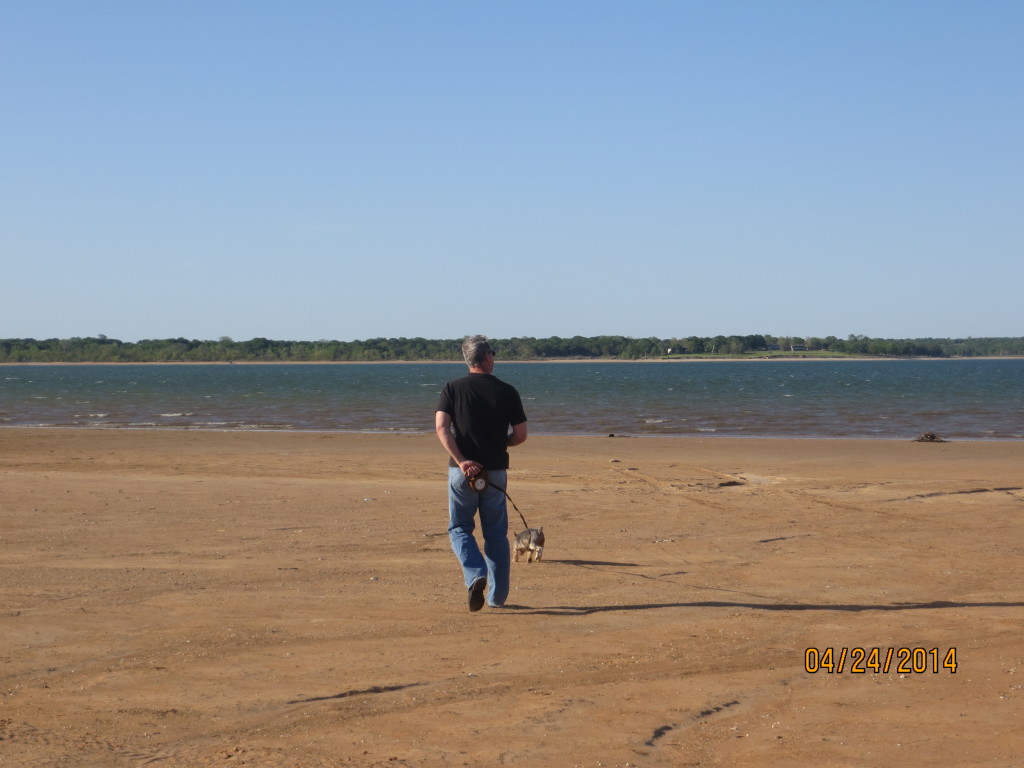 Last night, we undressed the stress of the day (hat tip to my friend, Marianna Paulson, owner of Auntie Stress for introducing me to that phrase) by firing up the grill, carving up NY strip steaks and enjoying a cocktail, all while the dog and cats lay about, relishing the warm, calming temperatures. Here are a few photos from our event.
While Rob may not be smiling on the outside, he was grinning inwardly, and overall was just happy to be at home.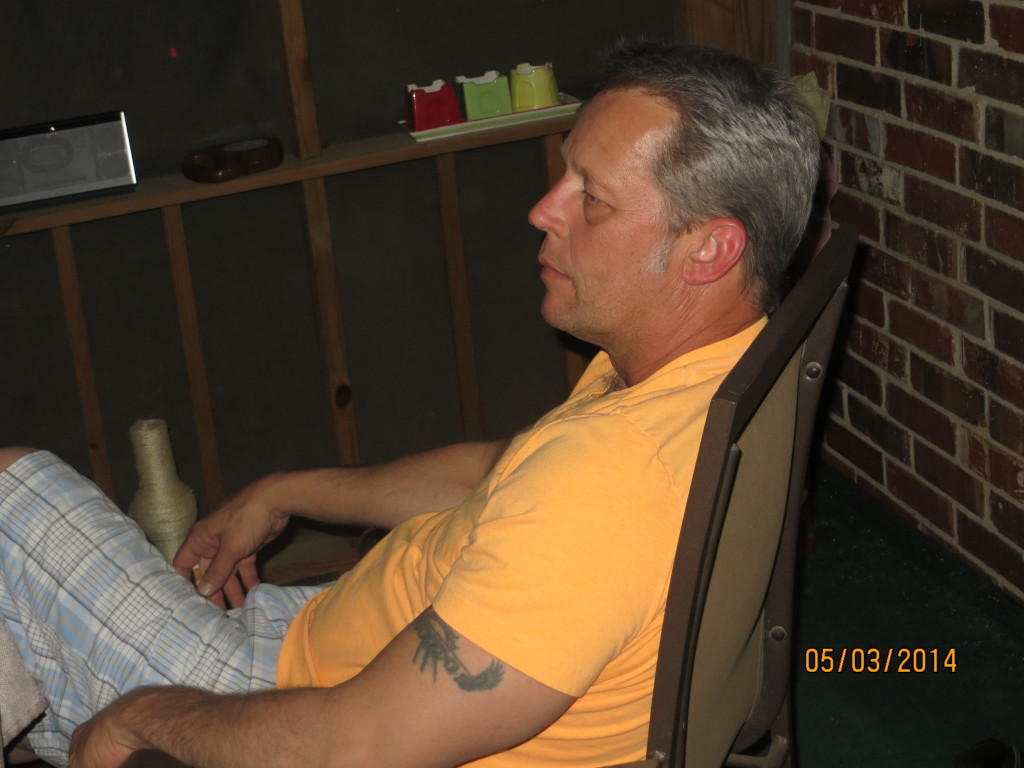 Nick was inspecting the new, (yet to be named) mermaid on the porch.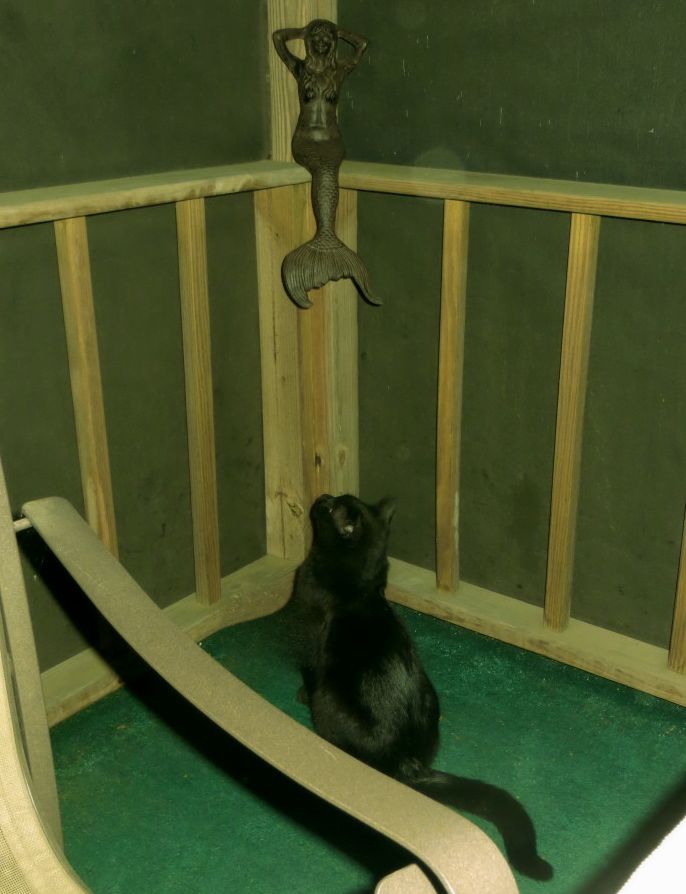 And this morning, the exploring continued …
Roger wondered what interesting booty was in these flower pots.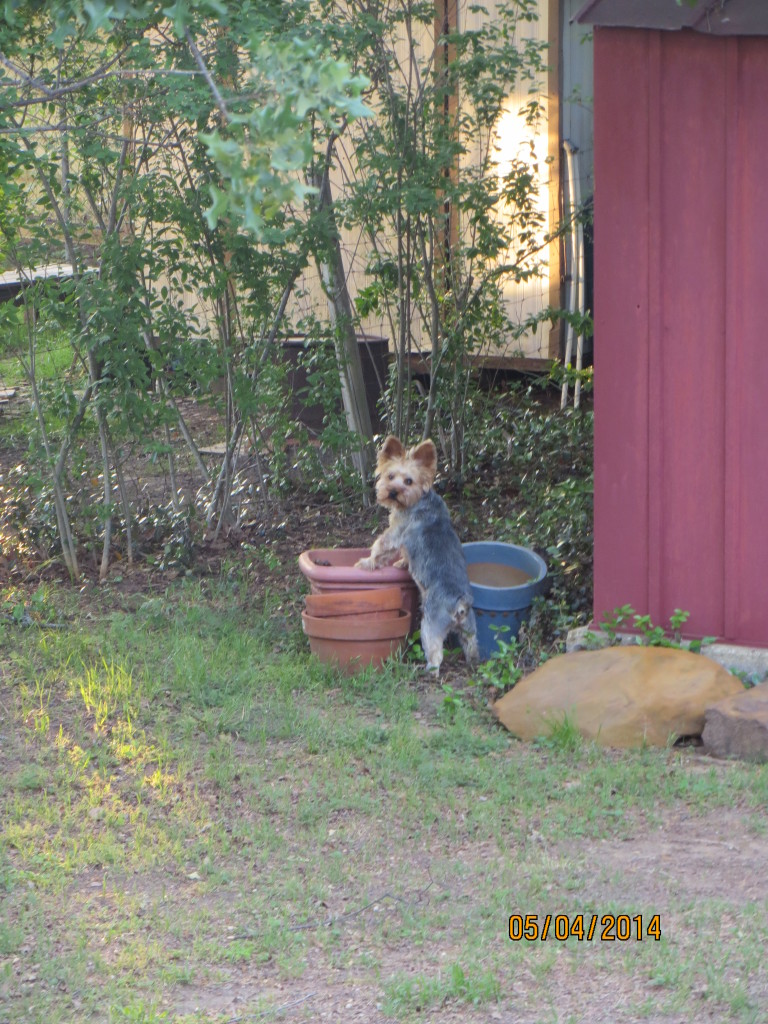 Bella and Roger, a rare side-by-side moment, and right before Roger decided to fully immerse himself in our little pond.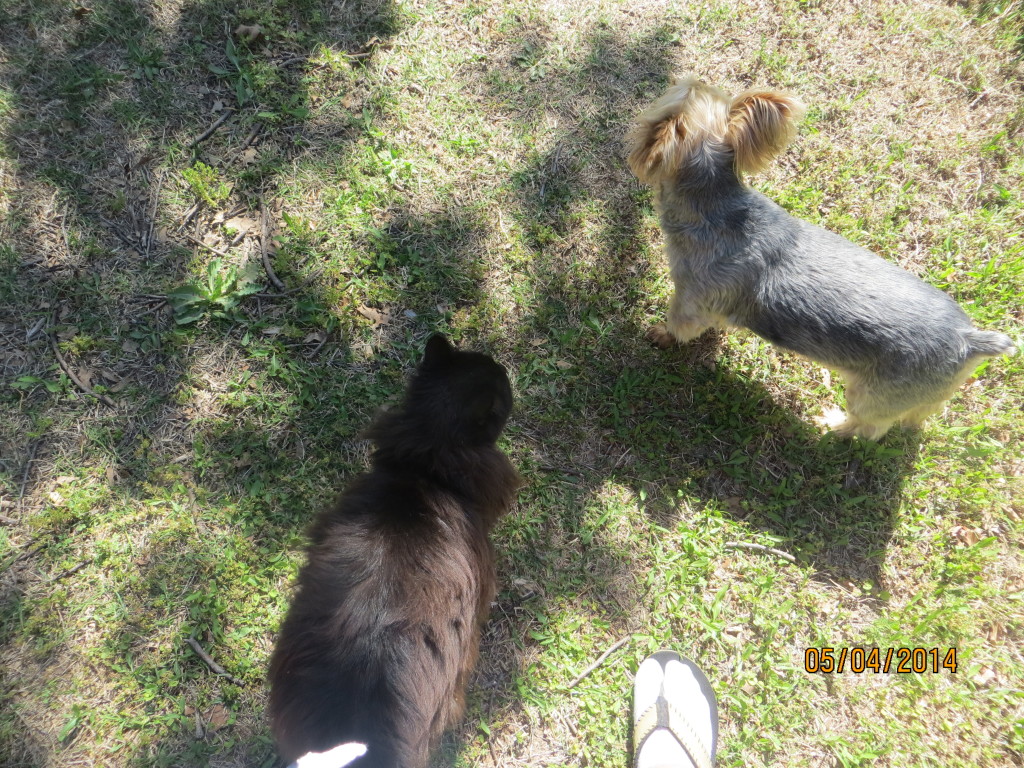 Followed by appropriate Sunday rest. What interesting little positions Roger gets himself into.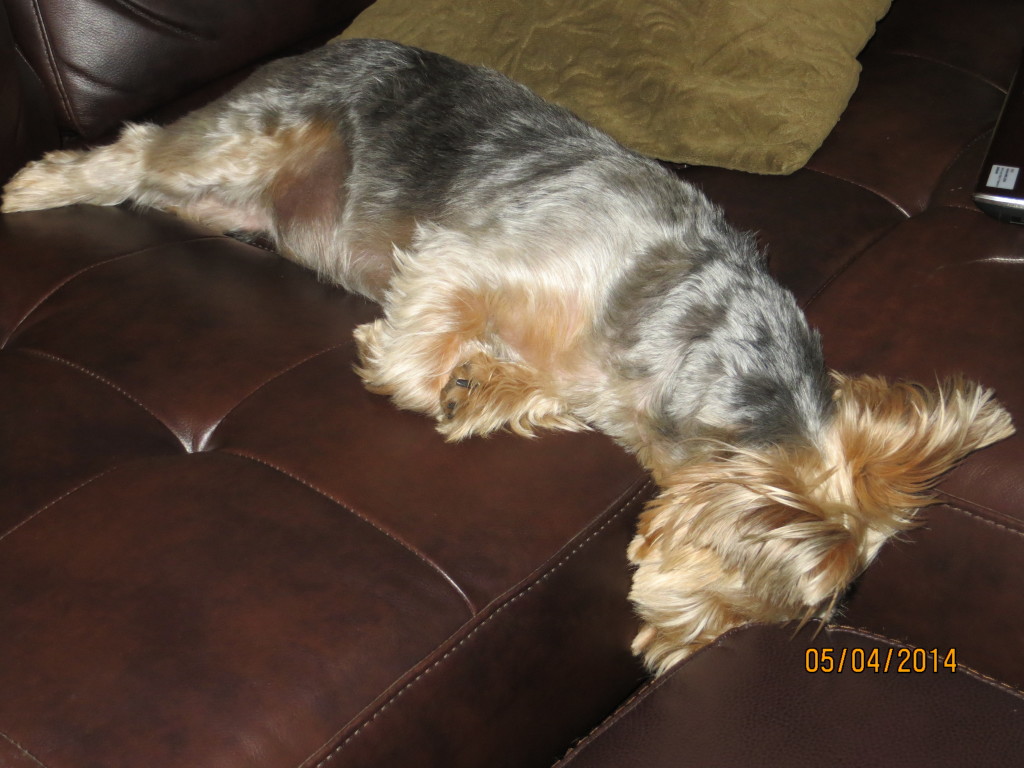 ~~~
In my recent blog for Glassdoor, I wrote about 'never giving up' and other keys to achieve a happy career. I might add, find a place, if you can, where you can blend the ideas of both a happy career and a happy life.
That's what Rob and I are striving to do!