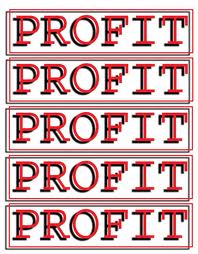 In collaboration with my colleague and Career Collective co-coordinator, Miriam Salpeter, and a group of prolific careers bloggers and friends, I introduce my December blog post contribution. This month's collective topic involves Human Resources / Job Search Misconceptions. Hat tip to Dawn Bugni for the idea.
Please visit my colleagues' posts on the same topic, which will be listed at the end of this blog post on Thursday. You may also wish to follow us on Twitter via the hashtag #CareerCollective.
DON'T BE A PEOPLE PERSON
Are you that "people person" who is tired of pushing paper and wants to make a difference in the community … in the world?
So what?
Yeah, that's right, so what?
Human resource pros, hiring managers and recruiters are not (initially) the audiences for your save-the-world-I-want-to-make-a-difference message. Instead, they are seeing red and want to convert that to black.
What can you contribute to ensure that you offer a return on the salary and benefits–including health insurance, employment taxes, office space, supplies, equipment and training costs that are ripped from the employer's bottom line and afforded YOU when you enter onto a company's payroll?
EMPLOYERS ACHING FOR SOLUTIONS
That's right – you must FILL their coffers, not be a drain, on their bottom-line.
Contain your urge to share that you "don't want to relocate because Sam or Sarah is finishing high school at the private school here in SmallTown, USA." Resume readers don't care if your dream is to live closely by your aging parents and to later retire to sunny Florida.
Really, they don't.
Right now, they ache for a solution to their problems. They feel a gap caused by that missing 'chink' in their employment productivity chain; otherwise, they would NOT be advertising and exhausting valuable time and energy in recruiting for a new, warm body.
Moreover, they not only want someone to plug an immediate business gap, they also want you to help make them look better to their bosses, to their customers and to their shareholders. You must be ultra sensitive to this: they care MOST about THEIR needs, not about YOUR wants … at least in the beginning stages of resume ferreting.
HOOK READER FIRST BEFORE FOCUSING ON CULTURE FIT

Of course, you read about culture and fit and value factors that should be articulated in your career messaging—and I agree and tout this be knit into my clients' resume and career positioning documents! You must ensure your chemistry fits the company's chemistry for long-term gain and employment harmony.
Pinning your primary message on this amorphous culture-fit donkey, however, may cause the job of your dreams, or the job of your bill-paying hopes to elude you. Think primary goal – attract the position for which you can be an immediate solution; and secondary (or concurrent) goal – attract a culture fit opportunity.
Thus, beneath the resume overlay you create career arteries that espouse your nuanced areas of value and fit. You show HOW you do what you do that elicits the shades of personality gray that will encourage a reader that you are a better "fit" than the next candidate.
And be patient – if your search is strategically executed, well researched and … persevering, you can aspire to a culture fit. In fact, for life-long career satisfaction, you must always be seeking this.
BOTTOM-LINE VALUE MARRIES CULTURE FIT
Once your resume passes muster (you know, that elusive, 20-second scan), if written strategically, it will hold its own well into the interview phase, supporting your nuanced, culture-cognizant conversations that say to the hiring decision-makers, 'I'm not only a money-producing, cost-containing, productivity delivering superstar, but I have the communication acumen, collaboration talent and people influencing skills that set me apart from your average 'Joe.'"
Following are links to my Career Collective colleagues' posts:
5 Misconceptions Entry-Level Job Seekers Make, @heatherhuhman
How "Interview Savvy" Are You?, @careersherpa
Misconceptions about Using Recruiters, @DebraWheatman
15 Myths and Misconceptions about Job-Hunting, @KatCareerGal
Are You Boring HR? @resumeservice
Job Search Misconceptions Put Right, @GayleHoward
Who Cares About What You Want in a Job? Only YOU!, @KCCareerCoach
How to get your resume read (sort of), @barbarasafani
The 4 secrets to an effective recruiter relationship, @LaurieBerenson
Job Interviews, Chronic Illness and 3 Big Ideas, @WorkWithIllness
The secret to effective job search, @Keppie_Careers
Superstars Need Not Apply, @WalterAkana
The Jobs Under the Mistletoe, @chandlee
8 Common Sense Interview Tips @erinkennedycprw
Still no job interview? @MartinBuckland @EliteResumes
Misconceptions about the Hiring Process: Your Online Identity is a Critical Part of Getting Hired, @expatcoachmegan
Why Is It So Hard to Get a Job? @GLHoffman