Hope is faith holding out its hand in the dark. ~George Iles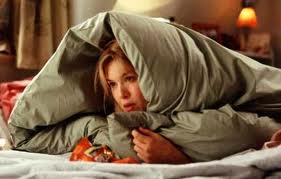 One of my movie favorites is Bridget Jones's Diary. If you have not seen the film, it chronicles a 30-something's journey (Bridget, a single woman living in London, played by Renee Zellweger) as she moves through career and personal angst, one day, one crisis and one joyful event at a time. And all the while, each time I watch the movie, it is her position of 'hope' and resolve to choose tomorrow that emboldens me, even now, a decade later.
It's the glimmering–and sometimes bursting–rays of hope that seem to sweetly shoulder her burdens of life.
Amidst her fretting and commiserating, along with her trio of charming, equally angst-ridden and unconditionally supportive friends, she sings through her tears, sets goals in the thick of emotional pain and picks herself up (literally) when she stumbles.
As well, Bridget's lamenting is reserved for those rowdy, but lighthearted rants with her closest friends or for her time alone, singing karaoke style to songs like "All By Myself," as she imbibes on cheap wine and falls ungracefully asleep in her apartment.
What I like MOST about Bridget is her 'keep on going' attitude, her charming smile and confidently insecure, bold attempts to make a path for herself, personally and in her career. She doesn't publicly grouse and moan and point fingers at others for her problems. Instead, she focuses on her goals and keeps plowing through obstacle-filled streets, frequently veering off into unknown and uncomfortable roadways.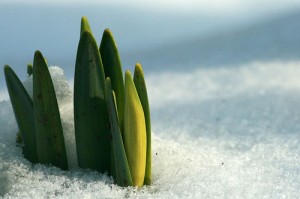 She shrugs off the naysayers and the negativity; in fact, finds the clarity to push back when done wrong and rebuild her career when faced with a critical career and personal juncture. As such, personal and career rewards emerge, like the hearty daffodils that confidently push through the harsh cold ground of winter.
All this begs the question: What is your relationship with hope?
Mine has been a fairly constant one; although, on occasion, I've proven fickle, or perhaps a bit jaded, frustrated or even simply frightened, that my hope would not sustain me–through the anxieties of youth, the entanglements of adult worry, the upset of career curves, the bitter sting of divorce, and the wildly uncertain future of owning my own business.
Hopefully one day I'll meet the man who loves me 'just as I am.' Hopefully I'll gain financial security (abundance, even!). Hopefully I'll one day sail to far-flung islands, listen to mamba tunes and drink pina coladas with abandon.
Hope for me, a most powerful word, has been my anchor in times of great storms; in fact, often the only bridge, between despair and emotional comfort, has been hope. Hope has, thus far, in the big-scheme of things, at the end of the day, NEVER let me down.
Do you offer hope a place in your life and your career and then forge ahead, creating the friction necessary to spark the fires that often will lead to that flame of opportunity and forward movement?
By Jacqui Barrett-Poindexter, Master Resume Writer