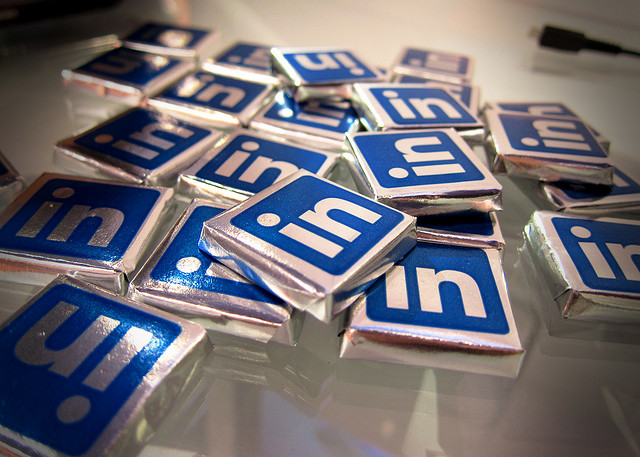 Image via Nan Palmero, Flickr
Are you a professional or executive compelled to modernize your LinkedIn Profile with current strategies but concerned it will scream, 'job seeker?' Understandably, many people fear the implications of making a sudden and/or sweeping change to their Profile.
In some companies, members of leadership, sales, marketing, IT and other divisions actively are updating their profiles in order to better represent their company. In fact, when one or two people do so, this often spurs others to proactively and openly create a stronger, meatier and more impactful message that sells their individual value as a part of the collective enterprise.
With that said, whether you are quietly updating your profile or more publicly presenting the new you, if you are currently employed, one detail that you will want to consider is 'how will others contact you?' For example, should you include your personal email address in the Summary or some other area of your Profile, or, will doing so call you out as a job seeker?
Simply put, 'Yes, you should' include your personal email somewhere in your Profile, preferably in the Summary, making it easy for someone outside of your network to contact you.
The rationale: Not everyone can just 'click a button and send you a message.' If someone isn't a first-degree connection and doesn't have a paid LinkedIn subscription, then they must first connect with you to send you a message (paid account holders can use InMail, but not everyone has a paid account). And, if they aren't someone 'you know' or whom you have interacted with outside of LinkedIn, then technically they should click the 'other' section on the invitation, which then requires they include your personal email address to send you an invitation.
So, if someone is not a first-degree connection, by providing your email address for easy access in the Google-able Summary section of your LinkedIn profile, then they can reach you directly. While it is true that someone may be able to click your 'contact info' button on your profile to view personal address, only first-degree connections can see that section.
As well, some recruiters claim that including your contact email in the Summary is critical, and not including it in your Profile (and/or Summary section) frustrates them.
Another option is to add the Additional Info section to your Profile, and include your email in the 'Advice for Contacting' section. For example, here's what my Additional Info section looks like, including my email address, at the end.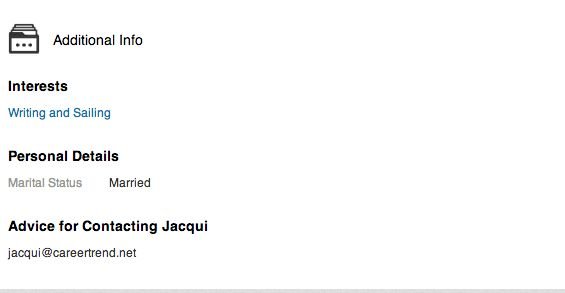 Whether or not to include your personal address in your LinkedIn (public) Profile is your decision. Options are available to address the issue of how to include your email address as outlined above: include your email address somewhere in your Summary; or, add the 'Advice for Contacting ' section to your Profile and include your email address.
Here's a bit more information about what people can/cannot see, cut and pasted from the LinkedIn website: