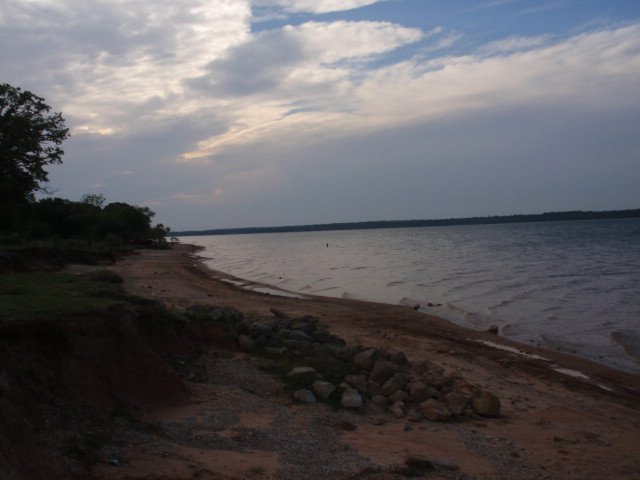 For years, everyone who knows me was quite sure that when I left the Midwest, it would be for the sun-filled Gulf Coast. While those long, sandy beaches boasting palm-treed shorelines and dolphins frolicking in the surf are still my ultimate goal, for now I have settled in a somewhat less grandiose environment.
The weather here is, by far, an improvement over the seemingly endless winters of Kansas City, and the new lake is almost 10 times the size of our old one. In addition to this, our home is only 1.8 miles from our new digs, so the hour-long drive we used to make, and all of the planning that had to go into it is no longer a part of our sailing routine.
Forgot something at the house?
No problem, just go back and get it.
Forgot to shut something off on the boat?
No problem, I'll just run down and take care it.
Jac and I spent much of last year kvetching over where we should go and what destination would make the most sense for our goals, both long- and short-term. Cost of living was the major concern, as I would be giving up a very lucrative career, and we would both be working her resume business while I spent more time honing my writing skills by taking on freelance work that would hardly equal the salary we were both accustomed to me bringing in.
Then one day, a work colleague who was aware of my sailing hobby, casually mentioned Lake Texoma and asked if I had ever been there. I admitted that I had never heard of it, and he proceeded to give me information that led to my further investigation of this sprawling 90,000-acre body of water situated on the Texas-Oklahoma border.
In November, we planned a trip to see it for ourselves, and Jac fell in love while I fell in like. We found a modest home that fit our needs, and before long, Gordonville, Texas, became our new home.
It is a quiet, rural area where sleep comes easy, and a short walk will take you to a sandy beach that lies beneath a canopy of cedar and stately elms. And, although it's not the tropical paradise of my dreams, it is quite charming and the local denizens are just as friendly as the island natives of the Caribbean — except, they are not trying to sell you t-shirts.
The water here is not the dreamy teal color of my desires, but there has never been a hurricane come on shore for as long as history has been recorded here, either.
So, here I sit one week and one day later on the balcony just off of our new master bedroom suite. The house is finally put together, and Jac and I strolled to the beach this morning before having breakfast. The birds are singing and a soft breeze rustles the pine cones of the huge Texas pine tree just off to the corner of this deck. And I am delighted with our choice to make this place our new home.
If you are a job seeker currently in the throes of career change, I have a small piece of advice for you: If you can't, for whatever reason, land at your ultimate destination right now, try to find joy in a place that may be close enough.
Hiring a professional resume writer is great place to start to at least get you heading in the right direction.