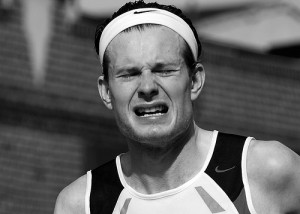 As in any job search success story, most seemingly abrupt interview triumphs aren't sudden at all; instead, they are borne of behind-the-scenes, rigorous and enduring labor that began weeks, if not months, prior to the actual interview. Luck is when opportunity meets preparedness, and in the world of job search, this saying reverberates.
If done well, the long-time job search that 'suddenly' results in an interview scheduled with little lead time will be a welcomed opportunity as the mountains of preparedness equip you to ramp up for the particular interview in short order.
The key, therefore, to interview victory is daily career work-outs well in advance of the interview ever appearing on your radar screen. Prep your career message muscles, ferreting out and refining those career stories and fine-tuning your interview instrument well ahead of the interview meeting.
Simply put, this is the best way to ward off the drama that sparks when unpreparedness meets opportunity.
As in annual dental appointments, regular physicals and your automotive tune-up, your career messaging materials and value clarification should regularly be checked upon, revised, adjusted and revamped.  Akin to the results of when a doctor's physical identifies the need for a major nutrition overhaul and exercise routine ramp up, consistent and dutiful management of one's career messaging documents and value clarification will uncover deficiencies and offer opportunities to empower your talk points not just during the initial job search phase, but also during the interview process.
In any goal-setting initiative, certain rules of thumb must apply. In my own recent-year's determination to ramp up my physical self, I've discovered — and continue to discover — new insights:
1. Working out, like career management, should never become status quo, easy and routine; in fact, if there is no pain, then there truly is no gain. In this competitive job search climate, being stronger and more resilient than your competitor is vital. To achieve and maintain career fitness, continual and progressive career muscle flexing and limits-testing must occur.
2. In working out, repeating an exercise routine over and over, no matter how vigorous, will create muscle memory, and ultimately, progress will screech to a halt. As such, to build muscle and to add value to fat-burning and stamina enhancing routines, diversifying your routine is important. Likewise, in job search, even if you religiously invest 8+ hours per day checking off the ritualistic to-dos, you may still fall short. Following a basic plan with the essential tools and activities is good, but tailoring and continually tweaking your routine to push beyond your comfort-zone limits and amp up your results requires a bit of pain.
3. To overcome the ritualistic job search enigma, reach out to others for ideas, either resume writing strategists, career coaches or other experts and career motivators with proven, pragmatic ideas who may fan the flame. Whether you invest in a career strategy service or attempt the self-service approach, keys to success include applying your intellectual introspection to both your career past AND career future and connecting the dots between the two.
4. Your likelihood of winning the interview race greatly increases if you first move yourself through the intellectually brain-wringing exercises that tap your historical career reserves while also applying your best research skills that locate and assess target companies and THEIR needs. Knitting together the results of these two exercises is vital to rising above the competition, as you articulate your VALUE during the interview.
5. Your chances for interview success plummet if you cannot clearly, succinctly (and yet, expansively, when needed), tell your story that compels the interview listener that you can solve their unique pain points.
6. Invigorate your job search exercise plan until you grimace, and then push through that pain until you hit a new stride. For me, moving from a 30-minute brisk bike ride to a 60-minute power ride was (and still is) an arduous experience, one that I find both great pain and pleasure in. I'm not through. I've got barriers to bust through to achieve both fitness and weight loss goals.
7. Job seeker, what barriers must you bust to insure that when you get to the interview chair your value articulation is at peak performance?
Following are links to other Career Collective member posts on this subject:
Sit Down and Panic. The Interview is Yours @GayleHoward
How to Stand Out in a Job Interview @heathermundell
Avoid These Reference Mistakes @DawnBugni
Unspoken Secrets of Job Interviewing Prep: How Your Nonverbal Presentation and Behaviors Impact the Impression You Make@KatCareerGal
Prep for Interviews Now: Snuff out the Elephant in the Room Later! @chandlee
What Should Job Seekers Do Now to Prepare for an Interview @erinkennedycprw
Take a Ride in the Elevator Before You Interview @barbarasafani
Are You Ready for the Elephant in the Room? @WorkWithIllness
"Tell Me About Yourself" (Oh, Yikes!), @KCCareerCoach
The job interview as a shared narrative @WalterAkana
Prepare your references for job search success @Keppie_Careers
Job searching? Take a cue from the Boy Scouts @LaurieBerenson
Preparing for Career Success Starts with Interviewing the Employers@JobHuntOrg