By Robert P. Poindexter
I spent 2.5 hours shoveling my driveway this morning.
The entire time, I was hoping some inspirational thought would creep into my frozen cranium that was also dripping with sweat. No matter how frozen my toes became or how sore my back got, I simply was not inspired. Shovel full after shovel full of white misery piled ever higher on the edges of my driveway–still nothing.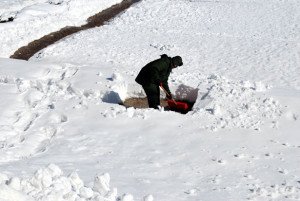 As an extra added bonus just as I reached the end near the street, a city plow truck threw some additional loads of snow back onto my almost cleared driveway. With a sigh, I gave him a one-finger salute as he roared out of sight. I felt bad about it, though. Shoot, he was just doing his job after all.
So, I hunched over my shovel and continued the process. I was nearing the end now, and it wouldn't be long until I was back in the warmth of my cozy home, fingers locked around a hot cup of coffee in my favorite mug. The thought of it sent a shiver down my spine as I worked furiously to rid myself of this chore.
As I headed back to the garage with my shovel slung over my shoulder, I surveyed all that I had done and called it, "good." I hung up my shovel and kicked off my mukluks. By the time I was halfway up the stairs my ski cap and gloves had been peeled off as well. Reaching the top of the stairs, I hung them, along with my jacket, in the hall closet and made my way to the coffee pot.
"Ah, sweet reward," I thought as the brown nectar followed the rising steam up to the rim of its container. Settling into my easy chair, all was right with the world. I hadn't been inspired as I had hoped to be, but no matter, the task was complete, and my troubles were through. Or, at least that's what I thought–until I tuned into the local news.
Turns out more snow could be just two or three days away. ARRRGH!!!! And so it goes for six months of the year when you live in the Midwest. Shovel, wait for snow. Shovel, wait for snow. Shovel, wait for snow.
Since they haven't invented self-shoveling driveways yet, I made up my mind at the end of last winter to move someplace where shoveling your driveway isn't necessary. Sunburn may become an issue, but at least there will be no more shoveling.
If you are currently in a job situation that is as onerous to you as shoveling snow is to me, maybe it's time for a change.
My deposit has been paid on my new residence, and the moving truck is already lined up. Jac and I have been divesting our home of things we no longer need or want to take with us, and I've contacted a boat mover who will deliver Seas the Day to her new marina in the spring. There is still much to do, but little by little I am getting closer to a snow-free driveway.
You have much to do as well. Updating your Linkedin profile, contacting a professional resume writer, brushing up on your interviewing skills. The good news is there are plenty of professionals out there to give you a hand just as the moving company and the boat haulers will be giving me a hand.
Tired of shoveling snow yet?