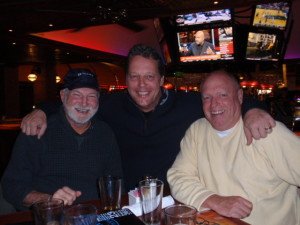 By Jacqui Barrett-Poindexter
Encouragers – they thread themselves through the needle of our lives, stitching together our tatters when we find we are fraying.
In your business, your career or your life, do you have your encourager team in place, those whom you tap into regularly or as-needed, people who will resuscitate you when you drift into unconsciousness, who will perk you up when you are down, who will compel you into traction when you are inert?
These are the folks who inspire your hope, and equip you with reasons to believe in yourself, in your ideas, in your goals, dreams and possibilities!
Connecting With Your Encouragers
In a recent social endeavor, after settling into our seats at a local Dave and Buster's restaurant, Rob and I found ourselves eagerly awaiting the arrival of two sailing buddies. It was December, and it was cold – our sailing days seemed long ago in the past, yet the arrival of these two men, who had been key fixtures in our sailing lives at least once a week for six glorious summer months, offered opportunities for reminiscing, jovial story-telling and warm conversing.
To date, our winter had begun to feel long, our plan to move our home and careers south had intensified, and we were feeling burdened as the details and action plans to get from 'here' to 'there' weighed on our day to day.
After Dave and Bill arrived, the usual hugs and 'how are yous' ensued, before we quickly transitioned into an energizing show and tell, as our friends' recent blue-water sailing adventure was recounted, in words and in photographs. The energy vibes thickened, the cold brews were refreshed and the conversation was unceasing. My friend and former neighbor, in town from San Angelo, Texas, joined into the fanfare, and the reconnecting deepened.
Soaking Up Others' Confidence and Enthusiasm
The spotlight then shifted, shining now onto Rob and me as questions were batted about regarding our forthcoming southern transition, our business and sailing goals and the inevitable where and when would we land in our new city. At first our eyes brightened and our voices rose excitedly, but then we subdued a bit, hemming and hawing and interjecting confliction. The build-up of and pressures of the last couple of months had chilled our enthusiasm a bit as fear and what felt like reality biting at our heels hampered our attitudes.
And here's where the story sharply turned. Our friends, naturally, intuitively, energetically started coaching  … and encouraging us. Where our positivity faltered, their insights and energies persevered, almost suddenly and completely propelling us from uncertainty to clarity and resolve. Pinpointing the pros and cons of our two target destinations (Florida and oceanside versus Texas and lakeside), and knowing us as intimately as they did, they helped to steer and clarify our life-changing transition decision.
Firming Up Next Steps … What a Dollop of Encouragement Can Do!
Our next move solidified – Texas, in a little cabin hideaway, just walking distance from a 90,000-acre lake where we will reap lifestyle benefits and work-life-harmony results beyond compare. All we needed was a little encouraging.
Qualities of Career and Life Encouragers
As I reflected upon what have been the most poignant and recurring traits of the career and life encouragers I have known, the following attributes arose and resonated.
1. These are folks who know you in both a personal and professional sense – who have gained enough insight about what makes you tick, including your hopes and dreams, to provide meaningful feedback. They offer closeness to you, but enough distance from your situation to deliver perspective.
2. They are naturally intuitive and sensitive – they have the listening and reflecting skill that truly is a gift.
3. They are naturally optimistic and positive in their communications. They are those glass-half-full folks who prefer to find the silver lining.
4. Though inherently positive, these individuals also are smart, pragmatic and capable of sorting through the situational facts and help you see the value in one decision over another.
5. They want you to be happy, and their advisement has no ties to their own self interest. They sincerely want you to be fulfilled and contented. Your gut will tell you if this is the case.
6. Often, they are senior to you, if not in age, but in years of experience in a particular area in which you are struggling. This niche-specific wisdom helps allay your fears and fill you with new confidence.
7. They are imbued with a sense of humor and love to laugh!
I hope you can find value in my (and Rob's) recently encouraging event and decision-making result. In addition to this particular story and the terrific friends featured hereto, I can personally attest to a tight-knit group of business colleagues who are my day-to-day encouragers, mood and confidence lifters when I need revived. I wish for you the same career and life encouragement opportunities that will help shepherd you in a positive journey toward your goals and dreams!