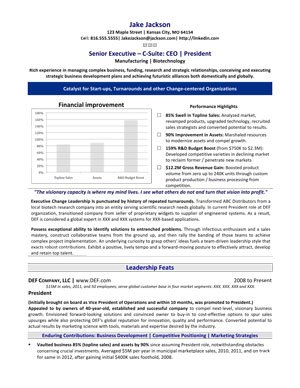 Are you a VP or C-Suite executive or board-focused leader? Are you highly strategic, an innovative thinker and experienced in bringing products to the marketplace?
Do you have operational and finance acumen and experience fundraising, conducting roadshows, interacting with VCs and being disruptive?
Are you a process improver with a record of transforming organizations and fueling growth (both organic and inorganic) as well as increasing the stature of your industry (through board roles and overall innovation with your organization)?
Are you an entrepreneur, a consultant or an expat?
Does your resume reflect this about you?
I am one of only 50 master resume writers and have crafted more than 1,500 career stories that convert into career-propelling interviews. With a bachelor's degree in writing, I apply a journalist's eye to your career, delving beyond the bottom line to emote your value.
My clients include:
former CIA and FBI agents
C-Suite (CEO, CMO, CFO, COO, CIO) Executives of major, Fortune 50 companies: telecom, technology, media and many others
executive producers + CEOs for major television and broadcast media organizations
professional athletes
film + radio industry executives
entrepreneurs + strategic business consultants
other creative and technical writers
I offer the following packages:
Deluxe
Executive / Board Resume
Cover Letter Suite
LinkedIn Profile
Executive Summary
Executive Biography
Elevator Pitch
Investment fee — $5,999.00
—
Premium
Executive / Board Resume
Cover Letter Suite
LinkedIn Profile
Elevator Pitch
Investment fee — $4,299.00
—
Professional
Executive / Board Resume
LinkedIn Profile
Targeted, Expanded Cover Letter
Investment fee — $3,299.00
—
Entrepreneur
LinkedIn Profile
Executive Biography
Investment fee — $2,699.00
—
Basic
Executive / Board Resume
Targeted, Expanded Cover Letter
Investment fee — $2,499.00
—
Starter Kit
Resume Template
Basic questionnaire
10 Tips
Investment fee — $99.99